Donita Schrad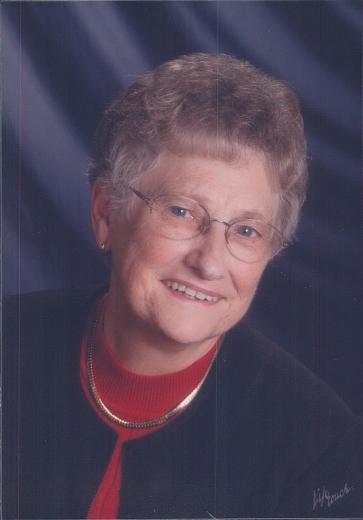 Donita Schrad, 86, died on Wednesday, July 22, 2020 at Stewart Memorial Community Hospital in Lake City. A private funeral Mass will be held. A public visitation will be held from 1 to 7 p.m. on Thursday, July 23, 2020 at Lampe Funeral Home with a Rosary at 7 p.m. Condolences may be sent to Lampe Funeral Home, 418 North Hancock, Lake City, Iowa.
Donita Jean (Schulte) Schrad was born on August 20, 1933 in Auburn, Iowa on the family farm located southeast of Auburn. She is the daughter of Henry and Anna (Tegels) Schulte. Donita graduated from Lake View High School in 1951. She married Arlo Schrad on June 10, 1954 at Auburn's St. Mary's Catholic Church. Donita helped out on the family farm and worked as a stay at home mother to her six children. Arlo and Donita retired to Lake City in 1995.
Donita was an active member of the St. Mary's Catholic Church where she took part in St. Theresa Sodality. She also was a part of Federated Arts, Stewart Memorial Hospital Auxiliary, Birthday Club, Red Hat, Chat and Sew and several card clubs.
Donita grew up on a farm southeast of Auburn until she was seven years old. She then moved north of Auburn until she married Arlo. Together, they moved to a farm east of Auburn. She lived there until she retired to Lake City in 1995.
Donita is survived by her six children: Karen (Jim) Korleski of Boone, Luanne (Gary) Redenius of Lake City, Mark Schrad of Lake City, Gary (Alice) Schrad of Albert Lea, Minnesota, Alan (Janet) Schrad of Auburn, and David (Angela) Schrad of Springfield, Nebraska. She is survived by her 18 grandchildren: Brant (Kim) Korleski, Lisa (Nick) Erickson, Nancy (Chris) Bruscher, Emily Schrad, Kyle (Jamie) Schrad, Cody (Laura) Sigmon, Lori (Chance) Wells, Anna Schrad, Jackie Schrad, Jeff (Jenny) Redenius, Beth (Cody) Hardy, Andy Schrad, Wil Schrad, Tanner Schrad, Sam Schrad, Rayah Schrad, Demi Siegfried, and Landon Siegfried. She has 20 great-grandchildren. She is also survived by her sisters-in-law: Opal Schulte of Lake View, Ruth Schrad of Auburn, and Mary Ann Schulte of Carroll.
She was preceded in death by her husband, Arlo Schrad; her parents, Henry and Anne Schulte; father- and mother-in-law Louis and Anna Schrad; her sister, Ione Kluver; her brothers: LeRoy Schulte, Lenus Schulte, and Lloyd Schulte; her sisters-in-law: Hilda Winker, Evelyn Schrad, and Katy Schrad; and her brothers-in-law: Harry Kluver, Lloyd Schrad, Ralph Winker and Don Schrad.
Donita was an amazing wife, mother, grandmother, great-grandmother and friend. She was deeply loved and appreciated by everyone who had the opportunity to know her. She will be missed by so many. The family would like to thank Stewart Memorial Community Hospital for all of the care given to Donita during her recent stays.
Visit Lampe Funeral Home by clicking here. 
Category:
The Graphic-Advocate
The Graphic-Advocate 
121 North Center St.
Lake City, IA 51449
Phone: 712-464-3188
Mid-America Publishing
This newspaper is part of the Mid-America Publishing Family. Please visit www.midampublishing.com for more information.