Arlene Blair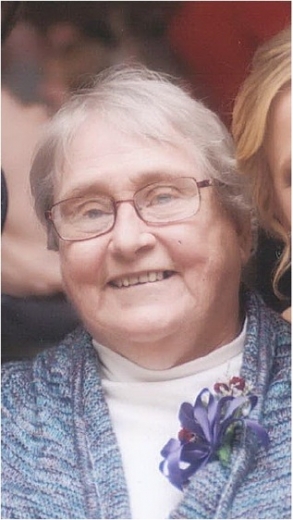 Lake City – Arlene Blair, 84, died on Monday, Sept. 7, 2020 at Shady Oaks Care Center in Lake City.  A private family burial will take place in the Lake City Cemetery. Lampe Funeral Home in Lake City is assisting the family.
Arlene Joyce (Burley) Blair was born on April 14, 1936 in her parents' home on the farm in Lake City, Iowa. She was the sixth child of Marion and Georgia (Friedel) Burley. She was educated in rural school one mile from their home and then went to Lake City High School where she graduated in 1954. She married Estelle Lee Blair on October 1, 1954 in Lake City. 
She enjoyed china painting and was a member of the China Painter Club and was also a certified Porcelain Artists, Master Teacher and a Master Artists, in International Porcelain Artists and Teachers, Inc. (IPAT). She traveled and taught China painting for many years.  She was president of Iowa World Organization of China Painters in 1982-1983 and was president of Iowa Teachers in 1987-1989. Arlene also enjoyed birthday lunches with her friends, candy making, playing cards, fishing, puzzles and especially all her family's activities.
Arlene was preceded in death by her parents, husband Estelle, sons Eric and Dell Blair, great-granddaughter Faith Kuehl, sister Eleanor McMeekin and brother Chuck Burley.
Arlene is survived by her children Lee (Joanne) Blair of Lake City, Shanda (Gary) Graham of Wasilla, AK, Trent (Dee) Blair of Lake City; daughter-in-law Michelle Blair of Rockwell City; grandchildren and their families Jayme (Nate) Kuehl and children Nash and Blair, Jordanne (Curtis) Fry and children Avery, Brayton and Carter, Evan Blair and children Ella and Eli, Corbin (Jo) McManus and children Parker, Jackson and Finley, Barret (Stefani) McManus and daughter Clair, Brawley (Erin) Blair and children Olivia and Ethan, Brice (Maria) Blair and children Kennedy and Presley, Tandy (Kyle) Gulbranson and children Chloe, Blair and Liam, Nicole (Eric) Vogel and children Kase, Lakyn, and Easton, Bailey (Austin) Hauswirth and children Lane and Ryann, Cole (Kiley) Blair and son Maverick, and Austin Blair and son Bo.  She is also survived by her sisters Kathryn Hansen of Wahoo, NE, and Phyllis Remsburg, Grace Hucka and Janet Toms all of Lake City.
Visit Lampe Funeral Home by clicking here.
Category:
The Graphic-Advocate
The Graphic-Advocate 
121 North Center St.
Lake City, IA 51449
Phone: 712-464-3188
Mid-America Publishing
This newspaper is part of the Mid-America Publishing Family. Please visit www.midampublishing.com for more information.