Zadonna Yetmar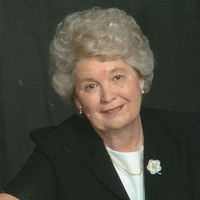 Zadonna Mae Yetmar, 86, of Jacksonville, Arkansas, passed away on August 30, 2021.
Funeral service will be 10 a.m., on Thursday, Sept. 2, at Hope Lutheran Church. Visitation will be one hour prior, 9 a.m., at the church. Graveside services will be 11 a.m. on Thursday, Sept. 9, at Greenfield Township Cemetery in Knierim, with Pastor Chadric Dietrich officiating. Memorials may be made to Hope Lutheran Church in Zadonna's memory. Arrangements by Moore's Jacksonville Funeral Home, and local arrangements with Palmer-Swank Funeral Home in Rockwell City.
Zadonna was born May 9, 1935 in Richards, to the late Paul and Mildred (Reynolds) Ramthun. In addition to her parents, Zadonna will be welcomed into Heaven by her first husband, Marvin Nimke; sister, Paulette Benton; and two infant children.
Zadonna was a devoted wife and mother; she loved her role as homemaker. She enjoyed cross stiching, crocheting, and bowling. She cherished her childhood memories of growing up on the farm in Iowa.
Those left to cherish Zadonna's memory include her husband, Jerome Edwin Yetmar; children, Terry (Patricia) Yetmar, Ann (Billy) Huebner, Lori (Thomas) Smith; sister, Marilyn Jud; six grandchildren, and six great-grandchildren.
Visit Moore's Jacksonville Funeral Home by clicking here, and visit Palmer-Swank Funeral Home by clicking here.
Category:
The Graphic-Advocate
The Graphic-Advocate 
121 North Center St.
Lake City, IA 51449
Phone: 712-464-3188
Mid-America Publishing
This newspaper is part of the Mid-America Publishing Family. Please visit www.midampublishing.com for more information.