Susan Carlson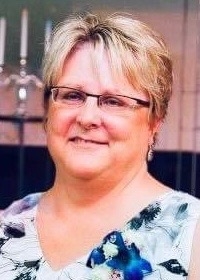 Susan (Susie) Leigh Carlson passed away at the age of 59 on Friday, Nov. 12, 2021 in Chandler, Arizona. 
A memorial service will be held at the Woodlawn Christian Church at 11 a.m. on Saturday, Dec. 11, with a visitation available one hour prior to the service. A private family burial will be held in the Lake City Cemetery. Lampe & Powers Funeral Home in Lake City is assisting the family.
Susie benefited from the comfort of hospice care at the end of her life, and the family wishes that memorials for Susie be sent to the hospice of your choice. 
Susie was born on Dec. 23, 1961, the third daughter of Melford and Mary Carlson. She was raised on a farm northwest of Lake City, Iowa, along with her sisters, Shirley and Debra. In high school, Susie participated in softball, basketball and cheerleading. In addition, she worked as a nursing assistant at the community hospital where she developed her passion for the nursing profession. 
Upon high school graduation, Susie attended a semester at the University of Iowa in 1980 and transferred to Morningside College in Sioux City, where she earned her Bachelor of Science in Nursing degree in May, 1984. Subsequently, Susie worked as nurse traveling to various regions of the United States making several cherished friendships along the way. In the fall of 1997, she established herself in Ankeny.  There she worked as a cardiology nurse, and treasured the times with her family. 
In 2016, Susie was ready for another adventure and moved to Gilbert, Arizona. There, she continued her career as a cardiology nurse, and later as a nurse care manager and Susie developed another family of friends that she loved and enjoyed. Throughout her travels, Susie kept in contact with cousins and friends who were all special to her.  Susie is remembered for her kindness, generosity, love of family, positive outlook, and knowledge of nursing. 
Surviving immediate family members include sisters Shirley (Larry) Ellis and Debra (Jay) Yunek; niece and nephews Ann (Trent) De Weerd, Thomas (Kari) Ellis, Jeff (Bess) Yunek and Joe (Molly) Yunek; and several grandnieces and grandnephews.
Susie is preceded in death by her father and mother, Melford and Mary (Astleford) Carlson, step-father, Loyd Ellis and many special aunts and uncles.   
Visit Lampe & Powers Funeral Home by clicking here.
Category:
The Graphic-Advocate
The Graphic-Advocate 
121 North Center St.
Lake City, IA 51449
Phone: 712-464-3188
Mid-America Publishing
This newspaper is part of the Mid-America Publishing Family. Please visit www.midampublishing.com for more information.