Rodney Markum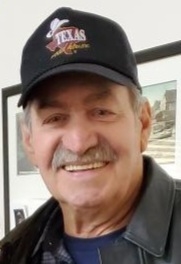 Rodney (Bubba) Markum, age 73, of Rockwell City, passed away peacefully at his home on Friday, April 8, 2022, surrounded by family and friends.
A Memorial Visitation was held on Wednesday April 13, at Farber and Otteman Funeral Home in Sac City.
Rodney Daniel Markum was born on Dec. 4, 1948, to parents JB (Jack) Jr. and Delores (Gibson) Markum in Fort Bragg, North Carolina.  He was raised in the Sierra Mountains of California and later moved to Iowa in 1994.
He worked as a heavy equipment operator and foreman for PG & E while in California. After moving to Iowa, he worked for Irving F. Jensen until his retirement. In his spare time, he was a mechanic, did tree work, farmed and did various other jobs.
Rodney was drafted into the U.S. Marine Corps on Dec. 4, 1969, through 1971. He served in the 29 Palms Light Air Missile Battalion.  He served in Okinawa, 3rd Marine Division, and drove boats down the coast of Okinawa and Vietnam to clear brush and trees with flamethrowers.  During his service, he received a Rifle Sharpshooter Badge, as well as a National Defense Service Medal.
Rodney loved motorcycles, antiques and antique cars, riding bulls, country music and spending time with his family and friends. 
His hobbies were fishing, playing dominoes and 42, working on his 1950 Ford Coupe, working on his motorcycles and going to rodeos. Rodney always loved helping others, whether it be helping mow a lawn for a neighbor, helping someone move, get to doctor appointments, or just being there to lend a listening ear.
Those left to cherish his memory include a son: Jesse (Kellee) Barnett of Alta; grandsons: Shawn, Gabriel, and Weslee Barnett; dear friend Patty Walters; brother: Mike Nessler; sister: Sue Nessler, stepfather: Herb Nessler; aunts: Karen Markum, Louise, and Nancy; Uncles: Paul Markum and Jimmy Ford; a niece and nephew; and many cousins.
Rodney was preceded in death by his parents JB (Jack) Markum Jr. and Delores Nessler; brothers: Steven Conrad Markum and Jerry Robert Markum.
You can visit Farber & Otteman Funeral Homes by clicking here.
Category:
The Graphic-Advocate
The Graphic-Advocate 
121 North Center St.
Lake City, IA 51449
Phone: (641) 456-2585
Mid-America Publishing
This newspaper is part of the Mid-America Publishing Family. Please visit www.midampublishing.com for more information.