Rev. Jeff Schleisman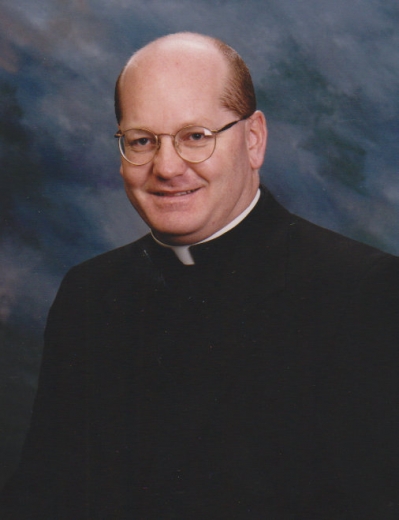 Rev. Jeff Schleisman, age 56, of rural Lake City, died on Sunday, Sept. 12, 2021 at his home and surrounded by his family.
Mass of the Christian Burial will be celebrated at 11 a.m. Wednesday, Sept. 15, 2021 at Holy Spirit Church- St. John Paul II Parish in Carroll. The Celebrant will be the Most Rev. R. Walker Nickless, Bishop of the Diocese of Sioux City. Homilist will be Fr. Merlin Schrad. 
Concelebrants will be members of Fr. Jeff's Jesu Caritas Group: Fr. Craig Collison, Fr. Richard Ball, Fr. Bill McCarthy, Fr. Brent Lingle, and Fr. Timothy Pick. Music will be by Kathy Halbur and Sherry Loughran. Gift Bearers will be Fr. Jeff's sisters: Deb Gemberling, Cindy Barkmeier, and Yvonne Doty. Casket Bearers will be Les Schleisman, Brad Schleisman, Jim Gemberling, Bill Barkmeier, Cain Bachman and Tate Schleisman. Burial will be at 2 p.m. at Holy Family Cemetery near Lidderdale.
Visitation will be held at Holy Spirit Church from 9 a.m. to 10:45 a.m. Wednesday morning.
A livestream of the funeral mass will be available on the Sharp Funeral Home – Carroll YouTube Channel. A link will be provided on Fr. Jeff's obituary page at www.sharpfuneral.com the morning of the funeral mass.
Funeral arrangements are under the guidance of the Sharp Funeral Home in Carroll, and online condolences may be left at www.sharpfuneral.com.
Jeffrey Allen Schleisman was born on October 25, 1964 at St. Anthony's Regional Hospital in Carroll, Iowa to parents Lyle and Lillian (Kanne) Schleisman. He graduated from Lake City High School in 1983.
Fr. Jeff went onto further his education in 1984 at Briar Cliff University, Sioux City, and Loras College in Dubuque from 1985-1987; graduate school at University of St. Thomas; St. Paul Seminary, St. Paul, MN from 1997-1998; Creighton University summer 1997, St. Joseph Seminary, Dunwoodie Yonkers, N.Y. 1996-2000. Fr. Schleisman was ordained into the priesthood on June 10, 2000 at the Cathedral of the Epiphany, Sioux City.
Fr. Jeff was called to serve at the following parishes in the Sioux City Diocese: Blessed Sacrament Parish, Immaculate Conception Parish, and Church of the Nativity all in Sioux City; St. Mary's Parish – Larchwood, Holy Name Parish – Rock Rapids; St. Joseph's Parish – Jefferson; St. Brigid Parish – Grand Junction, St. Columbkille Parish- Churdan; Our Lady of Good Counsel Parish – Holstein, and Immaculate Conception Parish – Cherokee.
Fr. Jeff Schleisman is survived by his father: Lyle Schleisman of Carroll; siblings: Debbie (Jim) Gemberling of Sloan, Cynthia (Bill) Barkmeier of Lake City, Yvonne Doty of Lake City, Les (Deb) Schleisman of Lake City, and Brad (Missy) Schleisman of Lidderdale as well as numerous nieces, and nephews.
He was preceded in death by his mother: Lillian Schleisman; a brother, Doug Schleisman; his grandparents: Lester and Vi Schleisman; John and Genieve Kanne. 
Visit Sharp Funeral Home by clicking here.
Category:
The Graphic-Advocate
The Graphic-Advocate 
121 North Center St.
Lake City, IA 51449
Phone: 712-464-3188
Mid-America Publishing
This newspaper is part of the Mid-America Publishing Family. Please visit www.midampublishing.com for more information.