Paul Reed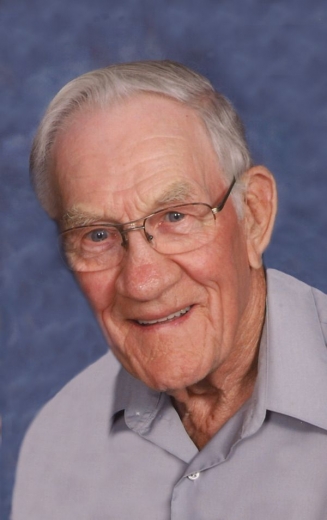 MUSCATINE – MUSCATINE, Iowa – Paul J. Reed, 93, of Muscatine, passed away on Monday, May 3,2021, at SunnyBrook Assisted Living.
A funeral service will be held at 2 p.m. on Tuesday, May 11, at the Ralph J. Wittich-Riley-Freers Funeral Home. Reverend David Wittmann will officiate.  Burial will take place in Memorial Park Cemetery.
A visitation will be held from 1 p.m. until 2 p.m. on Tuesday, May 11, at the funeral home. In lieu of flowers, memorials may be left at the funeral home for Hospice Compassus or the American Cancer Society. Online memorial may be made at www.wittichfuneralhome.com.
Paul was born on August 19, 1927, the son of Howard and Bertha Griesenbrock Reed. He married Geniece Streeter in August of 1944.   They were married for 72 wonderful years.
Paul graduated from Lanesboro High School and later enlisted in the United States Navy and served during World War II. He grew up around Lanesboro, Iowa, in Carroll County. 
Paul was a member of Spangler Chapel and Bloomington Grange. Paul was a wonderful husband and father and enjoyed farming his whole life. He especially enjoyed doing chores and caring for his cattle. He loved traveling the United States and abroad with Geniece.
Those left to honor his memory include his children, daughter, Ann Sneddon and husband, Richard, of Muscatine, and their children, Stacy Hansen and husband, Mark, and their children, Brad and his wife, Athena, Tina and her husband, Jerome, and their son, Quincy, Ashley, and Steven; Doug Sneddon and wife, Courtney, and their children, Maddie and Molly; and Beth Williams and husband, Robert, and their children, Natalie, Deshawn, and Isabella; daughter, Sally Lambert and husband, Bob, of St. Peter, Minnesota, and their children, Michael Lambert, Sara McHerron, Yaasi Lambert, and Amari Lambert; son, David Reed and wife, DeeAnn of Muscatine, and their children, Shawn Reed, Aaron Reed and wife, Rose, and their children, Charlotte Rose Reed and Jeremiah; and son, Danny Reed of Harrison, Michigan, and children, Jesse Reed and wife, Brandie, and their son, Brogan, and Daniella Clayton and husband, Brian, and their sons, Cael, and Caden.
He is preceded in death by his parents; his wife, Geniece on October 25, 2016; infant sister, June Elaine; Beth and Robert Williams son, Trayvont; and daughter-in-law, Marilu.
Visit the Ralph J. Wittich-Riley-Freers Funeral Home by clicking here.
Category:
The Graphic-Advocate
The Graphic-Advocate 
121 North Center St.
Lake City, IA 51449
Phone: (641) 456-2585
Mid-America Publishing
This newspaper is part of the Mid-America Publishing Family. Please visit www.midampublishing.com for more information.