LeRoy Schultz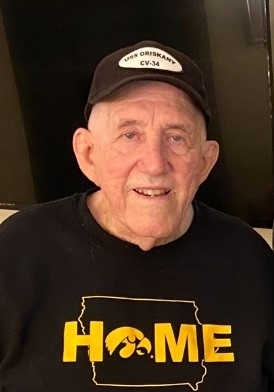 LeRoy H. Schultz, 84, of Pomeroy, passed away on Saturday, March 20, 2021, at the Mary Greeley Medical Center in Ames.
Visitation will be held at 9:30 a.m. to 11:30 a.m. on Saturday, March 27, at St. John's Lutheran Church in Pomeroy. A memorial service will follow the visitation, with Pastor Ken Ahntholz and Scott Essing officiating. The Pomeroy AMVETS will also conduct military rites.
Burial will take place after the service, and Powers Funeral Home in Pomeroy is handling the arrangements.
LeRoy Herman Schultz was born September 3, 1936, in Pomeroy, Iowa. He was the son of John "Pete" and Viola "Oley" (Gutz) Schultz. LeRoy attended Country School and graduated from Pomeroy High School in 1955. He enlisted in the United States Navy and served from January of 1956 to December of 1959. Following his military service, LeRoy returned to Pomeroy where he worked for the Pomeroy Co-op. On May 2, 1964, LeRoy was united in marriage to Pauline Mohr at St. John's Lutheran Church in Pomeroy. The couple made their home on a farm near Pomeroy for 10 years and then moved into town. In 1985, LeRoy and Pauline settled on their acreage where LeRoy continued farming until his retirement in 2017.
LeRoy was a life member of St. John's Lutheran Church. In earlier years he served on the Knoke Fire Department. He was a member of the Pomeroy AMVETS and served as treasurer. He loved farming, was an avid Iowa Hawkeye fan and was a regular at the Knoke Elevator. He especially enjoyed following his grandkid's sporting activities.
Survivors include his wife, Pauline of Pomeroy; daughter, Melinda (Scott) Meyer of Belmond; son, Doug (Theresa) Schultz of Lytton; grandchildren, Justin (Kelly) Meyer, Jesica (Miguel) Mercado, Jackee Meyer, Jacob Schultz, Jordan Meyer, Jennah Meyer and Madison Schultz; great-grandchildren, Theo and Teagan Meyer, Kase Mercado and 3 nieces and 1 nephew. LeRoy was preceded in death by his parents; brother and sister-in-law, James and Linda Schultz and father and mother-in-law, Art and Marie Mohr.
Visit Powers Funeral Home by clicking here.
Category:
The Graphic-Advocate
The Graphic-Advocate 
121 North Center St.
Lake City, IA 51449
Phone: (641) 456-2585
Mid-America Publishing
This newspaper is part of the Mid-America Publishing Family. Please visit www.midampublishing.com for more information.