L. Dean Grant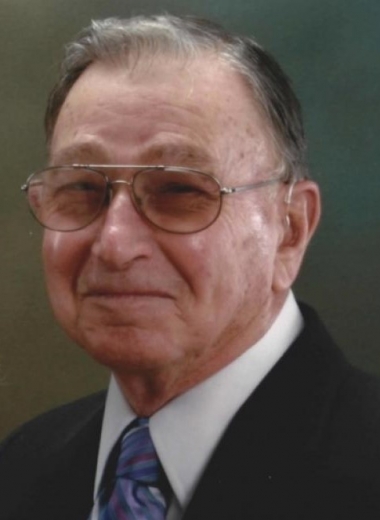 L. Dean Grant 93, passed away Friday, September 10, 2021 at the Paula J. Baber Hospice Home, Fort Dodge.
A Family Conducted Memorial Service will be at 11 a.m. on Friday, October 1, 2021 at the Palmer & Swank Funeral Home in Rockwell City. Burial of both Shirley and Dean's ashes will be at Rosehill Cemetery, Rockwell City. Visitation will be at 10 a.m. on Friday until service time. Memorials may be left to: Mayo Clinic Department of Development, 200 1st St. SW, Rochester, MN 55905, or the Paula J. Baber Hospice Home, Fort Dodge.
Dean is survived by his children Larry (Mary) Grant of Fort Collins, CO, Barry (Bonnie) Grant of Urbandale, Becky (Jerry) Waller of River Falls, WI, and Scott (Diane) Grant of Algona; 11 grandchildren; 11 great-grandchildren; sister Janice (Ronald) Crawford of Washington, IA; and other relatives and friends. He was preceded in death by his wife Shirley; his parents, Lloyd and Jeannette (Medd) Grant; infant sister Mavis Irene Grant; and brother Richard Grant.
Lloyd Dean Grant was born August 18, 1928 at Rockwell City, Iowa. He graduated from Rockwell City High School, with the Class of 1946. Dean then attended Iowa State University. On March 11, 1951, during a blizzard, he was united in marriage to Shirley E. Yeager at the United Methodist Church in Rockwell City. Dean was a sales representative for Pioneer Seed Company for 20 years and farmed until retiring in 1993. Shirley passed away on January 24, 2020.
Dean continued living on the Grant Century Farm. He was a former President, and State Representative for Farm Bureau, past President of Rockwell City Lion's Club, and a past Sunday school teacher. He also was an avid tractor restorer and a member of the Central Iowa Tractor Club. Dean took pride in being a good steward of the land taking care of his equipment, and great care for animals. Dad taught his children the value of hard work, tenacity, perseverance, on occasion patience, and the value of keeping your word with a handshake.
Visit Palmer & Swank Funeral Home by clicking here.
Category:
The Graphic-Advocate
The Graphic-Advocate 
121 North Center St.
Lake City, IA 51449
Phone: (641) 456-2585
Mid-America Publishing
This newspaper is part of the Mid-America Publishing Family. Please visit www.midampublishing.com for more information.