JoAnn Allen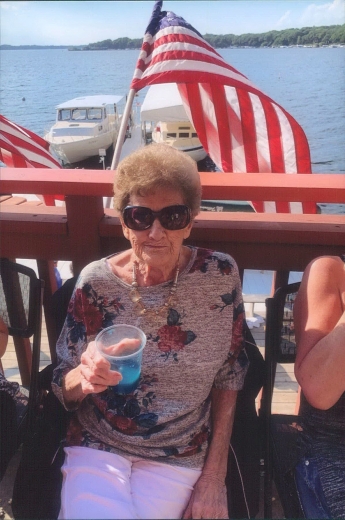 JoAnn Allen, 94, died on Saturday, May 29, 2021 at Stewart Memorial Community Hospital in Lake City. Funeral services will be held at 10:30 a.m. on Wednesday, June 2, at the Lake City Union Church with Pastor Randy Russom officiating and burial in the Lake City Cemetery.
Visitation will be one hour prior to the service at the church. Lampe & Powers Funeral Home in Lake City is assisting the family.
Fay JoAnn Allen was born on August 6, 1926 in Lake City, Iowa to Ralph and Fern (Griggs) Moad. JoAnn enthusiastically cheered for all the Hawkeye and Titan sports, she was a great baker and she loved babysitting for her grandchildren and attending all their activities throughout the years. Her favorite activities were her Okoboji trip, Adventureland trip and State Fair trips each year.
Joann is survived by her daughters Pam (Craig) Stone of Lake City, Linda Coon of Lake City (Paul Coon) and Angie (Pat) Brabec of Newell; grandchildren Kelly (Kory) Petzenhauser of Spencer, Laura (John) Coon of Johnston, Tyler (Leslee) Reiter of Hornick, Justin (Hali) Reiter of Rock Rapids, Brooke (Jeremie) Kent of Lake City Jennifer Coon of Somers, Kailee, Mareni and Bryan Brabec of Newell; and 13 great-grandchildren.
She was preceded in death by her parents; son Stuart Allen; and her seven siblings.
Visit Lampe & Powers Funeral Home by clicking here.
Category:
The Graphic-Advocate
The Graphic-Advocate 
121 North Center St.
Lake City, IA 51449
Phone: 712-464-3188
Mid-America Publishing
This newspaper is part of the Mid-America Publishing Family. Please visit www.midampublishing.com for more information.