Gerald "Bud" Toms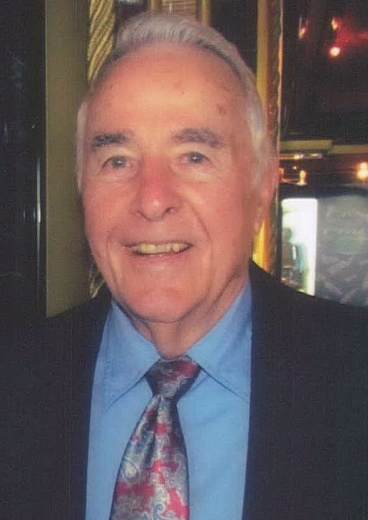 Bud Toms died on Tuesday, September 28, 2021 at Stewart Memorial Community Hospital in Lake City. Private family graveside services will be held at the Lake City Cemetery. Condolences may be sent to: 1935 320th Street, Lake City, Iowa 51449.
Gerald "Bud" Toms was born on August 12, 1936 in Lake City, Iowa. He left this world to go to a better place.....HEAVEN on September 28, 2021, at the age of 85. He passed peacefully with his loving wife and children by his side. His battle with dementia in recent years, showed his courage in facing life's challenges. It was never easy towards the end, but he still showed us that glimpse of that loving Dad we knew and loved. Mom never left his side and fulfilled her promise to take care of him til death do we part. They shared a special never-ending, love that we cherished and admired.
Our Dad lived in Lake City his whole life and lived the simple small town life. When he visited big cities, he always said, I'm so glad I live in Lake City. He graduated from Lake City High School where he excelled at track. He loved sharing his yearbooks with us and all of his running accomplishments.
He married Janet Burley, of Lake City on September 1, 1956. Dad was a city boy, but he quickly turned into a farmer. Dad and Mom had quite the fairytale love story. They raised 6 children on a farm North of Lake City and we were blessed with such a good life filled with so much love. Dad loved sharing the story of how he met Mom. Mom asked him to the Sadie Hawkins dance which ended up being cancelled, but swept him off his feet and their love story turned into 65 years of marriage, 6 children, 14 grandchildren, and 24 great grandchildren. He had an uncanny ability to find happiness in daily life.
His pleasant and loving personality was contagious to everyone he met. His life was filled with many that loved him and he was such a blessing and touched so many lives.
Dad was a devoted Christian and wasn't scared of death. He was a faithful servant and knew where he was going and that he would have eternal life with our Lord and Savior. He was a great mentor and loved his church family at Woodlawn Christian Church where he attended until his death.
The simplest pleasures in life brought great joy to Dad. He loved to laugh, joke, have fun and he had the best sense of humor. He was the master of finding four leaf clovers, playing horseshoes, playing card games, cribbage, working in his wood shop, singing and listening to his favorite hymns in church every Sunday, farming, loved food and family get-togethers, vacations at Spirit Lake, reading the Christmas Story to all his Grandchildren on Christmas Eve, traveling, hot dog roasts at the farm, hayrides, his love for candy and tootsie pops and he loved to shop. He took Mom and us kids to Fort Dodge at least once a week. He was a puzzle wizard and loved reading western books and watching western movies.
Dad was survived by his loving wife, Janet; his children Brenda (Don) Korleski of Lake City, Jodi (Jeff) Frank of Rockwell City, Lori (Joe) McIlrath of Arlington, Wisconsin, Shari (Preston) Witt of Clive, Dana (Brian) Nockels of Grimes, Alan (Tracey) Toms of Lake City; 14 Grandchildren; 24 Great Grandchildren; Twin sister Geraldine Green of Atlantic; Sister Sharon (Gary) Williamson of Rockwell City; and Sister-in-law, Joyce Toms of Fort Dodge.
Dad was proceeded in death by his parents, Dewy and Gladys Toms of Lake City; Grandparents, Don and Nattie Bigger of Lake City, IA; Brother, Don Toms of Fort Dodge, IA; Grandsons, Jacob Nockels of Grimes, IA, And Nick Hildreth of Rockwell City, IA; Granddaughters, Alyssa Toms of Lake City, IA and Faith Helt of Dane, WI; Brother-in-Law, Bob Green of Atlantic, IA. Grandma and Grandpa Bigger had a very special place in Dad's heart.
One thing we really respected about Dad was the love he had for his Grandpa and Grandma Bigger. He told us so many stories of how they loved him and cared for him his whole life! They were an important part of Dad's love for the Lord. We always knew how much he loved his grandparents, he in return, would be the most caring and loving Grandpa to his Grandchildren.
We find joy that Dad is where he needs to be and we are saddened by our loss and we will miss and love him until we are all together again as God promises us.
No more suffering, no more pain, no more dementia. Dad is at peace. We will continue to honor his legacy by living our lives to the fullest like Dad did. God welcomed him home. He was a faithful servant to God and his work was finished here on earth. Dad's love of life didn't end with his death. His memory will live on forever through all of his family and friends who loved him. Sadly, Dad would have loved a huge funeral and a huge going to Heaven Jesus party, but due to COVID-19, we had to make the decision to have a private family memorial service at the gravesite in Lake City for everyone's safety. We know Dad was loved by all of his family and friends and we are sorry we can't all celebrate his life together.
Visit Lame & Powers Funeral Home by clicking here.
Category:
The Graphic-Advocate
The Graphic-Advocate 
121 North Center St.
Lake City, IA 51449
Phone: (641) 456-2585
Mid-America Publishing
This newspaper is part of the Mid-America Publishing Family. Please visit www.midampublishing.com for more information.