Floyd Wilson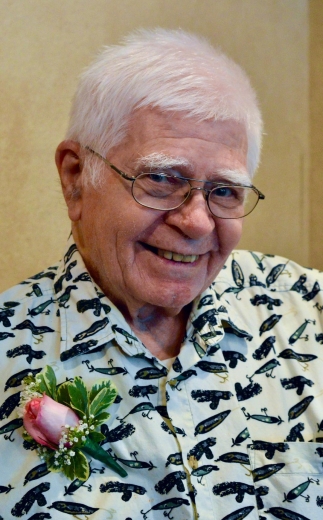 FARNHAMVILLE – Floyd C. Wilson 96, passed away on Saturday, May 1, at Shady Oaks Care Center in Lake City. Services will be at a later date. Memorials may be sent to: Beacon of Hope, Fort Dodge; First United Church, Farnhamville; or Pacific Garden Mission, Chicago, IL. Palmer Funeral Home, Gowrie is serving the family.
Floyd Clair Wilson was born July 17, 1924, in Farnhamville, Iowa to John J. and Florence (Effie) Rushton Wilson. He graduated from Farnhamville High School in 1941. He attended Morningside College, Sioux City, where he met the love of his life, Earlene Schenck, when he went to check on job offerings at the college personnel office where she worked. During college he worked as a carpenter at the Sioux City Airbase. He was drafted into the Army and sent overseas to Europe for three years in WWII.
Upon his return from WWII, he married Earlene on June 14, 1946 in Humboldt, then began their life together in Farnhamville where JJ Wilson & Sons built their one and only home next to Floyd's parents' house. Within 10 months they began their family with first daughter, Gwen, followed by two sons, Roger and Gary born within the next 2.5 years. Daughters, Rachel and Renee, arrived 4 and 6 years later. Floyd worked with his father and brother, Jack, as carpenter/contractor building many homes, barns, corn cribs, etc. in the Calhoun and Webster County area.
When his father retired, Floyd and Jack continued the contracting business as Wilson Brothers. Floyd was a Boy Scout Master for the Farnhamville Troop for many years. He was also active as a lay speaker and Sunday School teacher for the Methodist Church. He loved hunting pheasants.
Upon retirement, Floyd and Earlene enjoyed fishing trips to MN, visiting family, garage saleing, and being active in the Farnhamville Methodist Church and Walk to Emmaus. They loved vegetable and flower gardening (especially roses and gladiolus). He loved buying fixer-uppers at garage sales and tinkering on many projects in his basement to sell at his garage sales twice a year. Floyd enjoyed the garage sales as a time to visit with everyone he met as he rarely met a stranger. He is remembered for his love of life & his strong faith in the Lord.
He kept a Praise the Lord journal after retirement and every week wrote about events of the week and what filled him with gratitude. Every week he had a family reading of the journal from the past several years for that same week. He would also have daily Bible readings and meditation with Earlene and Renee. Renee cared for him for several years at home until he fell and broke his arm and was moved to Shady Oaks Care Center in November of 2020.
Floyd is survived by his four children: Gwen (Rex) Benham of Fayetteville, Arkansas; Roger (Rochelle) Wilson of Moville, Iowa; Gary (Nancy) Wilson of Dallas Center, Iowa; Renee Wilson of Farnhamville, Iowa; five grandchildren: Waneta (Joris) van Drunen Littel, Natalie Wilson, Aaron (Sarah) Wilson, Ashley (Scott) Wilkinson, Wesley (Amy) Wilson; nine great-grandchildren: Eliana, Jacob, & Cora Wilson; Olivier van Drunen Littel; Kate, Eli & Grant Wilson; Maddie & Will Wilkinson; sister-in-law Mae Wilson, brother-in-law Arlen Hirsch plus many nieces and nephews. Floyd is preceded in death by his parents; wife Earlene; daughter Rachel; sister Faith Vehue & brother-in-law Bob Vehue; brother Jack Wilson; sister-in-law Joan Hirsch; granddaughter Amber Rae Wilson; great-grandchildren Avalon Fleur, Ainslie Milan, & Avalon Flora van Drunen Littel.
Visit Palmer & Swank Funeral Homes by clicking here.
Category:
The Graphic-Advocate
The Graphic-Advocate 
121 North Center St.
Lake City, IA 51449
Phone: (641) 456-2585
Mid-America Publishing
This newspaper is part of the Mid-America Publishing Family. Please visit www.midampublishing.com for more information.