Dean DeVries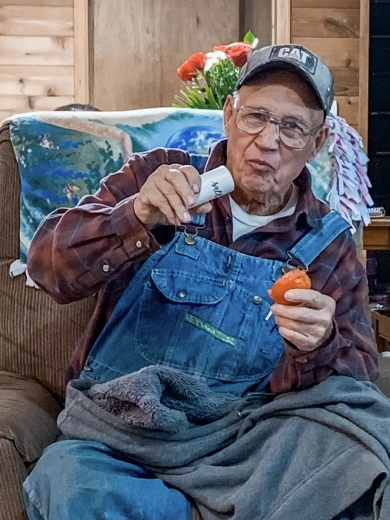 Dean DeVries, 82, died on Thursday, October 21, 2021 in Colorado. Funeral services will be held at 3:30 p.m. on Friday, Nov. 19, at Lampe & Powers Funeral Home in Lake City with burial to follow in the Lanesboro Cemetery.
Visitation will be from 1:30 p.m. until service time on Nov. 19 at Lampe & Powers Funeral Home.
Dean DeVries was born on January 10, 1939 in Lake City, Iowa to Lubbert and Irma (Gregg) DeVries.  He was the oldest of five children.  He was baptized at Woodlawn Christian Church.  In 1957, he graduated from Lake City High School.  He worked on a farm growing up.  He married right out of high school and worked at golf courses.  He then moved to Colorado and began taking care of lawns.  After a couple years, he started his own contracting business where he built and remodeled homes.  He was married three times and had ten children.  He moved back to Iowa and took over the heating and plumbing business where he worked until his partial retirement, but he never really retired. 
Dean is survived by his children: Cindy Sharkey of Lake City; Teresa (Steve) Montes of Imlay, Nevada; Linda Edwards of Wheatridge, Colorado; Laura (David) Bowers of Arvada, Colorado; Jeff (Karen) DeVries of Aurora, Colorado; Jessica (Chad) Meyer of Lohrville; Mike DeVries of Wheatridge, Colorado; Joe DeVries of Lake City; and Tim DeVries of Oak Creek, Colorado; two step-children; 15 grandchildren, 17 great-grandchildren and three great-great-grandchildren; and brothers Denny DeVries of Rugby, North Dakota and Dick (Diane) DeVries of Wheatridge, Colorado.
He was preceded in death by his parents Lubbert and Irma DeVries; son Kenny DeVries; sister Mary Ann; brother Delroy; and one grandson.
Visit Lampe & Powers Funeral Home by clicking here.
Category:
The Graphic-Advocate
The Graphic-Advocate 
121 North Center St.
Lake City, IA 51449
Phone: 712-464-3188
Mid-America Publishing
This newspaper is part of the Mid-America Publishing Family. Please visit www.midampublishing.com for more information.