Avis (Merry) Ettinger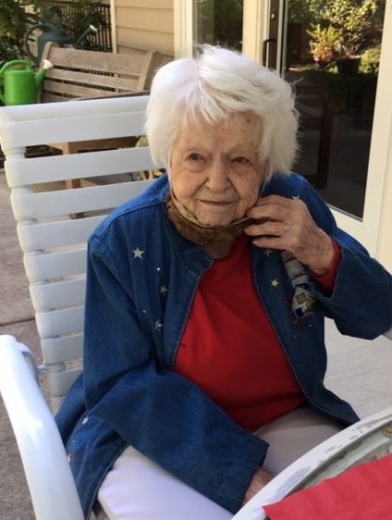 Avis Maxine (Merry) Easton Ettinger of Tigard, Oregon, passed away on March 17, 2022. 
Private family grave side services will be held at a later date in Iowa. Avis loved Lohrville and told many stories of her growing up years there. Donations may be left to the Lohrville Visions Group in her memory. 
She was born August 29, 1921, in Lohrville, the daughter of Cecil and Helen Easton. She graduated from Lohrville High School and later earned a Bachelor of Science degree in Child Development from Iowa State University.
In 1948, she and her husband Bill Ettinger moved to Lincoln, Nebraska, and started Harmony House Nursery School. In 1951, they built Merry Manor School of Childhood, which is still in operation today. 
Later, Avis was instrumental in opening a children's daycare center in the federal building in downtown Lincoln.
KOLN-TV in Lincoln first went on the air in 1952. Avis and Bill hosted a children's show "The Merry and Mr. Bill Show," for five years. It was live television then, so many interesting things happened right on screen. 
Her book, "Two Thousand Baby Bonnets" chronicled those years.
Avis called her years with her second husband Terry Allgood her "Golden Years." Both were avid Nebraska Cornhusker fans and traveled to many games. They also enjoyed their place at Twin Lakes. 
Avis danced competitively with the Arthur Murray Dance School after retirement. In 2000, she moved to Pensacola, FL near her son Scott. There, she enjoyed playing in several bridge groups and attending cultural activities. 
In 2013, she moved to Tigard, Oregon and celebrated her 100th birthday last August.
Avis was a member of Iowa State's Order of the Knoll, Choral Ridge Presbyterian Church, Pensacola Little Theater Guild, Pensacola Symphony Orchestra Guild and the National Association for the Education of Children. 
She is survived by her daughter Nancy Bohlken and husband David; grandson Chris and wife Dawn, all of Lincoln, Nebraska; grandson Andy Ettinger and wife Jackie of Eagle Grove; great grandchildren Phoenix and Ian Bohlken, Riley, Reese and Rynn Ettinger; and nieces Julie Helle of Tigard, Oregon and Kathy Healy from Tillamook, Oregon.
Her parents, sister Eleanor Mills, sons JD (Jim) and Scott Ettinger, daughter Jolie Lowell and granddaughter Amy Ettinger preceded her in death.
Category:
The Graphic-Advocate
The Graphic-Advocate 
121 North Center St.
Lake City, IA 51449
Phone: (641) 456-2585
Mid-America Publishing
This newspaper is part of the Mid-America Publishing Family. Please visit www.midampublishing.com for more information.